DMK Enzyme Therapy: A unique skin treatment
How do enzymes work?
Enzymes are catalytic proteins, meaning they initiate or increase the performance of specific chemical reactions in the body.

Enzymes temporarily bind with a molecule, breaking them down or building them up based on their unique purpose. DMK EnzymeMasques are formulated with enzymes that assist proteins in penetrating the skin to tighten and contract the fragile muscles lying directly under the fascia.

Over 40 years ago DMK discovered that albumin makes an ideal storage place for live enzymes, which typically remain active for 45 to 60 minutes once exposed to aqueous fluids. Fragile underlying facial muscles can be strengthened through the voluntary contraction stimulated by DMK Enzyme Treatments. As the masque sets, the muscles begin moving on their own accord against the resistance.

It is for this reason that the masque is always applied following the muscles from origin to insertion, with the exception of the obicularis occuli (eyes) and obicularis oris (mouth), as it is difficult to predict the direction in which these muscles will contract.

DMK Enzyme Masque #1 contains the active ingredients Lipase, a fat dissolving enzyme, and the collagen building amino acids Proline, Lysine and Glycine.

The DMK Plasmatic Effect®
All DMK enzyme masques have the ability to promote a Plasmatic Effect® in the skin prompting true oxygen therapy from within the blood stream. Unlike treatments that simply administer oxygen to the skin's surface, DMK Enzyme Therapy masques stimulate skin function rather than merely acting on the surface.

The epidermis contains keratinocytes, melanocytes and Langerhans cells. The dermis contains nerves, blood vessels, sebaceous glands and sweat glands and is primarily comprised of collagen and elastin fibers.
Enzyme Masque #1 is available at the DMK Fundamentals level of certification. You will be introduced to Enzyme Masques #2 and #3 as your business expands to include more advanced DMK Treatments.
Figure 7: Plasmatic Effect®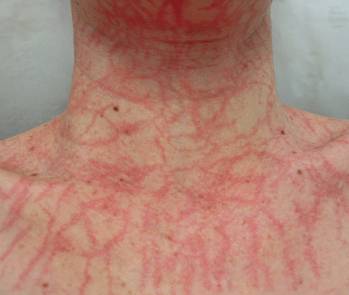 Lymph Drainage
Cells exist in a sea of lymph fluid. Lymph vessels run parallel to the blood vessels in the body. Lymph fluids feed the cells of the body by transporting various nutrients, salts and proteins to every cell. Lymph carries cell waste and debris accumulated from cells to the blood. The lymph system can be thought of as a cellular toxin disposal system. When the lymphatic system becomes blocked, an oxygen-starved toxic environment is created. DMK Enzyme Therapy improves lymphatic drainage into the major lymph ducts at the base of the neck.
Figure 8: Lymph Nodes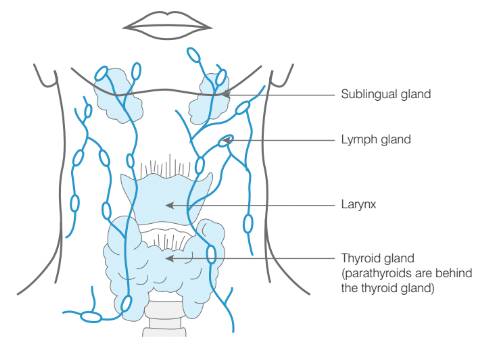 All DMK enzyme masques are designed for professional use only.